Social Media Marketing Services
Every blog post, image, video, or comment you share give your followers a chance to react, and every reaction could lead to a site visit, and eventually lead to conversion.
Social Media Management
Setup & Custom Profile Design
Brand Monitoring
Social Media Contests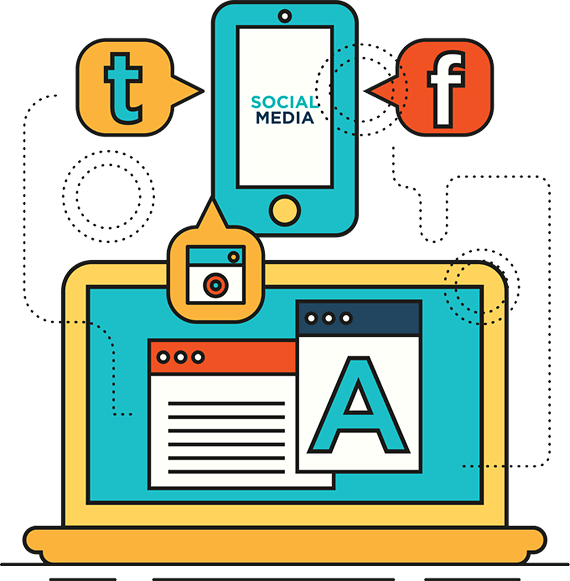 Our Professional Social Media Tools for Your Business
Social Media Management
Our strategy is to identify the target audience with study of their interests, behavior and suitably developing a customer loyalty system for them to help you to grow.
Setup & Custom Profile Design
We specializes in creating your Facebook,Twitter, Instagram,YouTube Profile tailored as per your business needs.
Brand Monitoring
Reputation management ,collecting feedback from the target audience and responding to comments are a part of our services.
Social Media Contests
Holding contests, Paid campaigns directed with a strong call to action to maximize your brand interactions and further to seles.
The best and most effective way to promote any message is through social media websites or apps such as  Twitter, Instagram, YouTube and Facebook.The message can be shared with millions of people, in seconds using social media.
Through social media, your audience can easily and quickly give their feedback, comments, and reviews about your products and services by commenting on your posts and feeds, rating your products accordingly.
It is a great way of building a relationship of trust and loyalty, in the long run. If he/she is following you on social media and visits that site or app regularly, you can notify your followers regularly about your new products or services. There is a very high probability that he will find a product which matches his interest sooner or later. And as we all know, if at his first purchase he likes your product, and subsequently that will lead to further purchases, hence this will help in building a strong relationship between the buyers and sellers.


Effective Social Media Management
Directing the profile to the right direction, increasing the activity of users in communities, neutralizing negative users makes us the best.
CONTENT MARKETING
Social Media a besr medium for your content to reach millions of potential users fulling all your business needs.
Tell Us About Your Project
And Get It Done